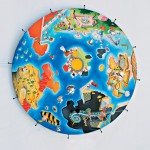 Agip Library
In 1995 Marco Minghetti gave origin to Agip Library, a series of books that Agip published in co-edition with Sperling & Kupfer and Jaca Book. With the first edition, the collection includes books dealing with managerial subjects, with the second, literary works from the Countries in which Agip (now ENI Exploration & Production Division) operates.
The Agip Library lived two years and represents the first attempt in the enterprise world to repeat the pioneering experiece of Edizioni Comunità of Olivetti, i.e. to mix up managerial experts with poets and novelists coming from all over the world, to experiment the "permanent dialog between passion and reason that needs to go hand in hand with the search for all that is good in other cultures. All this has been set by Edgar Morin as ethical priority to look to the future serenely.
About ten the titles published, all of very high level. Among them, the poems collection Attento, Soul Brother (Pay attention, Soul Brother), that made the Nigerian writer Chinua Achebe known in Italy, and the book winner of the Pulitzer The Prize by Daniel Yergin. In this framework, Minghetti signed Le cose e le parole (things and words), the inquiry – essay on praxis and instruments for the development of business culture in 20 multinational companies (co-author Giorgio Del Mare) and edits the miscellaneous work La metamorfosi manageriale (managerial metamorphosis): two texts in which some concepts (for example "peoplegram" and "circus enterprise") that will become central in the development of humanistic management principles can be seen.
Torna a HOME
Humanistic Management 2.0